Karsten Hans Georg Rätze successfully defended his PhD thesis!
Research focused on development of new tools for the process design in terms of Green Chemistry and their application on a selected example reaction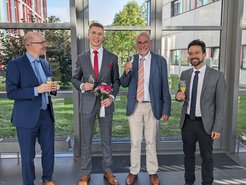 Karsten Rätze joined the IMPRS on June 16th, 2017. One of the most memorable aspects of his time in the IMPRS was the vibrant academic community it fostered. Seminars, meetings, and retreats organized by the Research School provided opportunities to connect with fellow students from diverse disciplines. These interactions not only led to interesting collaborations but also forged lifelong friendships.
Particularly enriching were the regular talks he had to deliver. These presentations were instrumental in building his skills in crafting compelling slides that were not only comprehensible to experts in his field but also accessible to those from entirely different backgrounds. The practice of delivering talks regularly, alongside conference contributions, significantly improved his presentation skills—a valuable asset in his current professional life.
Under the guidance of Prof. Dr.-Ing. Kai Sundmacher, Karsten Rätze joined the Process Systems Engineering (PSE) group. His research was aligned with the overarching goal of the Collaborative Research Center on Integrated Chemical Processes in Liquid Multiphase Systems "InPROMPT": advancing process development in the realm of Green Chemistry. This entailed transitioning from fossil-based to sustainable chemicals production using renewable substrates.
In his role, he oversaw two subprojects: the development of new tools for process design and their application to a selected set of chemical reactions. His dissertation focused on tools spanning the entire process design lifecycle. This involved identifying suitable reaction kinetic models, which were later used in systematic, model-based process design via the Elementary Process Functions (EPF) methodology. The results of these design efforts were validated through miniplant-scale experiments, confirming substantial improvements over existing processes. What was truly remarkable was the potential for generalization of the operating strategy derived from this work to benefit other reactions as well.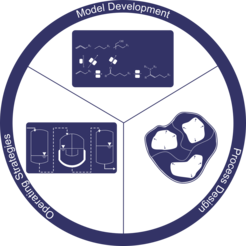 Beyond technical knowledge, the program fostered essential soft skills. It helped him establish connections, form collaborations, seek assistance when needed, and present the work in a manner that resonated with a broader audience. He also had the opportunity to connect with experts from various disciplines who shared his research interests.
Although Karsten Rätze cannot pinpoint a specific major obstacle during his PhD studies, the program's collaborative environment proved invaluable in surmounting numerous smaller challenges. Discussions during seminars and poster sessions often provided the inspiration and creativity required to overcome roadblocks.
One unique opportunity he cherished was the IMPRS' tandem talk. The tandem talks are part of the IMPRS program and provide an excellent opportunity for researchers to share their current findings and challenges in a collaborative presentation together with their supervisor. While challenging, it was a helpful experience, forcing him to think deeply about his research's narrative and place it within a broader context.
To future PhD students entering the program, he offers this advice: Embrace the regular meetings, engage in activities, converse with peers, and listen attentively to their work. Even if their research doesn't directly relate to your own, it may inspire you in unexpected ways.
As he transitioned into industry, he found himself applying the skills and knowledge gained during his PhD studies daily. Critical thinking, the ability to swiftly become attuned to a new field, and the confidence to tackle complex challenges independently are all attributes nurtured during his PhD journey.
In conclusion, Karsten Rätze wants to express his gratitude to the IMPRS for offering him the opportunity to join the program, to learn, grow, and create cherished memories. His time at IMPRS was instrumental in shaping his academic and professional journey, and he looks forward to continuing to contribute to the world of research and innovation with the skills and knowledge gained during his time at the IMPRS.