POSTPONED to MAY 29, 2021: The 15th Science Night in Magdeburg
Due to the measures to contain the Corona virus, the Magdeburg Long Night of the Sciences 2020 will not take place. All scientific institutions in Magdeburg and the City of Magdeburg have commonly agreed to postpone it to May 29, 2021.
A review: This has been the 14th Science Night in 2019
Our fields of research and exhibition booths on Crystallizers, Hydroformulation, Algae Reactors or the Production of Vaccines attracted numerous visitors to our institute when we opened the doors for the 14th Science Night on Saturday, 25 May 2019. The MPI offered a programme to discover basic research in the engineering sciences: kids and grown-ups could experience live and hands-on experiments in our institute. Thank you to all guests and employees who made this event a most memorable one.
1. PROGRAMME FOR CHILDREN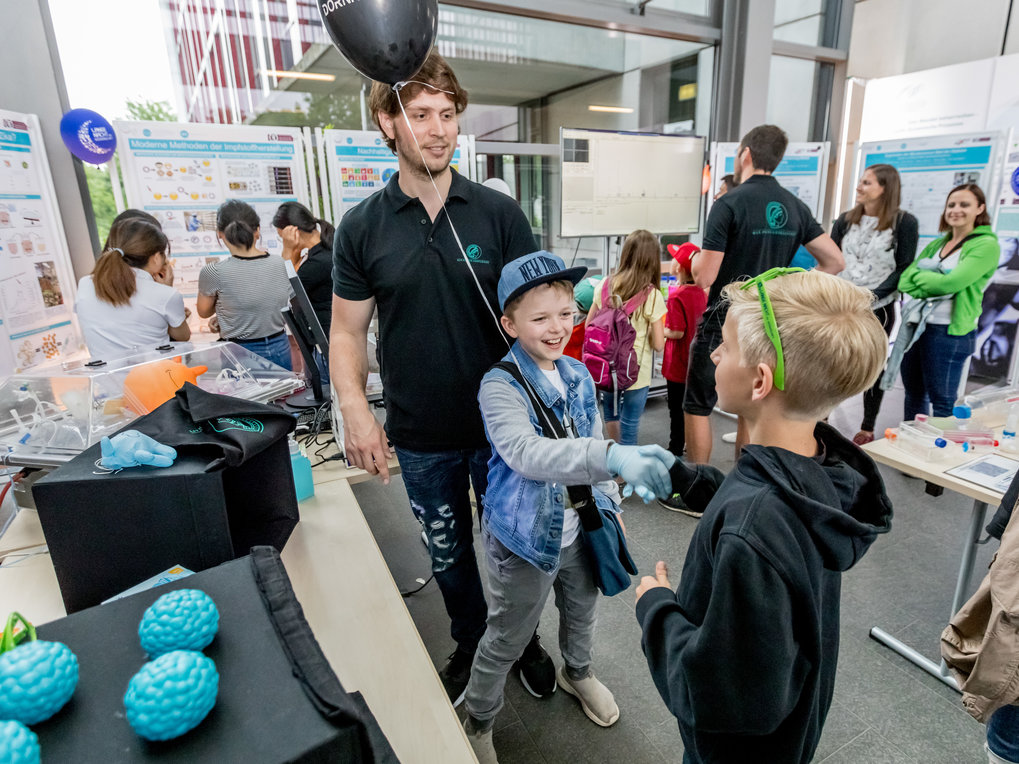 06.10, 06.50, 07.30 and 08.15 p.m.
Of Bookworms and Inventive Spirits – The Max Planck Institute for Kids
On a guided tour with our scientists and librarians kids will discover different places of the Max-Planck-Institute. Experience what researchers look up at the library and perform experiments with our scientists.
Register at 6.00 p.m. at the meeting point "Kinderführung" in the ground floor.
Each tour lasting about 30 minutes, for children aged 6 to 10 (preferably in German).
6.00 p.m. to 0.00 a.m., Big Seminar Room "Prigogine"
Build Your Own Molecule!
… for example water, urea, methane or formic acid? The chemists and engineers of the Max-Planck-Institute Magdeburg will show you how.
As long as stock lasts.

07.00 p.m. to 10.00 p.m., Ground Floor
Environmental Awareness in the Daily Life of a Scientist
Waste separation, using recycling paper, going by bike instead of a car or producing honey on your own. All those things you may already know from your school or kindergarten are similarily important for scientists day to day and are applied by the Sustainability Group of the Max Planck Institute Magdeburg.

2. EXPERIMENTS
6.00 p.m. to 0.00 a.m., Main Hall, South Wing, First Floor
Delivering medications into proteins - Cromprehend the structure and functions of proteins.

6.00 p.m. to 0.00 a.m., Main Hall, South Wing, First Floor
Modern Algorithms, Modern Computer Architecture
How do we use modern mathematical methods to regulate and simulate complex machines?


6.00 p.m. to 0.00 a.m., Main Hall, Ground Floor
Efficient, Renewable, Affordable - Future Process Design
Find out, how our engineers design efficient chemical processes!


6.00 p.m. to 0.00 a.m., Main Hall, Ground Floor
Vaccines and their Relevance for Humanity

How can vaccines be produced faster to respond to new emerging diseases?
6.00 p.m. to 0.00 a.m., Main Hall, Ground Floor
Building Blocks of Life: Why Proteins need a Sugar Coat
Functions and structures of glycomics - can they be shaped?

6.00 p.m. to 0.00 a.m., Main Hall, Ground Floor
Microbial Cell Factories
...Gaining a better understanding of microorganisms and tailor-made optimization.


3. VISIT OUR PILOT SCALE LAB (Technikum)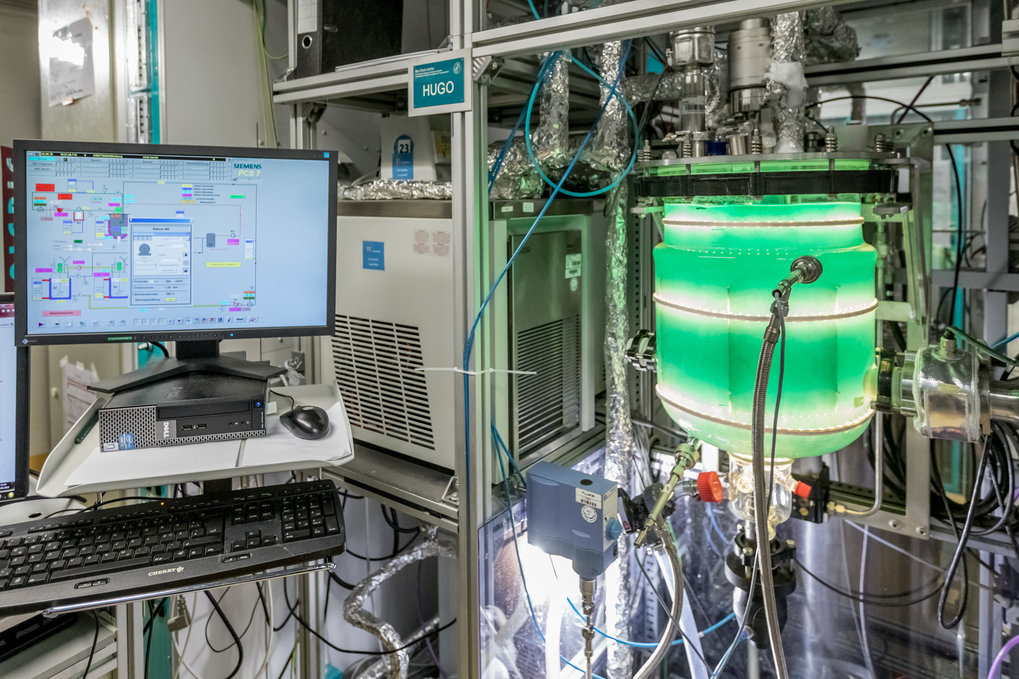 Crystallizers, Hydroformulation and Algae Reactor: Take a Look into Engineering Sciences
Visit our pilot scale lab, also in English language.

Please register at the meeting point "Technikum" at the entrance to the pilot scale lab.
Starting every 15 minutes
6.00 p.m. to 0.00 a.m., 10 persons per tour
Green Chemistry against Malaria
How to produce an affordable remedy for malaria and how to isolate mirror image agents?

6.00 p.m. to 0.00 a.m., 10 persons per tour
Perfumes from Renewable Resources?
How to produce colours, pharmaceuticals and detergents in a sustainable manner?

6.00 p.m. to 0.00 a.m., 5 persons per tour
How does our Weather Affect the Growth and Composition of Microalgae?
Green microalgae are real all-rounders, but their free-range growth is heavily dependent on the weather. Take a look at our algae breeding facility in action!

6.00 p.m. to 11.00 p.m., 5 persons per tour
Chemical Reactors as Flexible as Driving A Car
From renewable hydrogen to methane in less than 10 minutes, how does it work?

More detailed information on our programme
Last revised: March 30, 2020. Subject to updates and alterations. All Photos: Andreas Lander / Landeshauptstadt Magdeburg.