IMPRS Workshop 2020
Three days full of scientific exchange, new ideas and community.
This year is like no other year before. After the workshop had to be postponed at the beginning of the year, it was able to take place in September, taking appropriate hygiene measures into account. "With distance but together" - this is how you could describe the workshop motto. This year the workshop took place in Wörlitz, a small town in the east of Saxony-Anhalt that is part of the UNESCO World Heritage Site. Around 30 students and professors met there. Over a period of several days, they exchanged information about the latest developments in their research.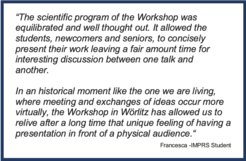 Beyond the scientific exchange, the workshops also include team building measures. The first day of the workshop therefore starts with an excursion. This year with a visit to Rabenstein / Fläming. These excursions also serve to get in touch and get to know each other. This is especially important for new IMPRS students. After all, team spirit is part of successful research.

In the days that followed, the focus was on science. The students presented their research results in the form of lectures or presented their research results on posters.
Furthermore, experts are always invited to the workshop to tell us about their field of work. That year, Dr. Michael Bortz from Fraunhofer ITWM gave a guest lecture and reported on his research in the field of machine learning.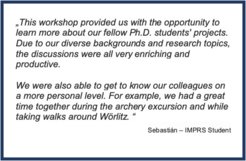 In addition to the team building measures and the scientific exchange, the Worhop also serves to further develop the IMPRS program. Two evening sessions were about developing new ideas and exciting concepts in order to offer the students optimal research conditions. The three days of scientific and conceptual exchange passed. Everyone gained new ideas and impulses and we are looking forward to the next workshop.