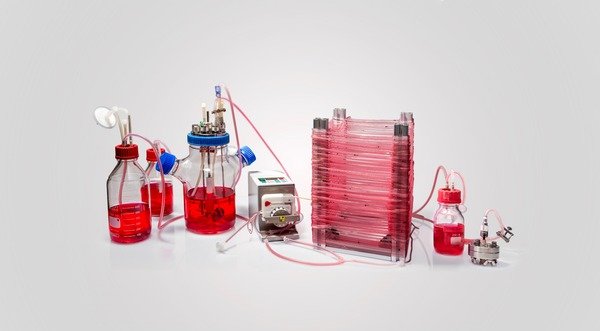 Continuous Production of Cell Culture-derived Vaccines in a Plug-flow Tubular Bioreactor System
Motivation
Using cascades of stirred tank bioreactors is a first approach for a continuous cell-culture based virus production. Another option for continuous virus production is the use of a plug-flow tubular bioreactor (PFBR) [1,2] within the cascade. As before, a chemostat is used for the continuous production of cells. However, in this set-up, virus seed is continuously added to the cells at the entry of a PFBR (Fig. 1). If the length of the tubing is adjusted to the MOI and the duration of the replication cycle, a virus harvest with defined passage number can be collected continuously at the tube outlet. The multiplicity of infection (MOI) at the point of entry is a function of the cell concentration in the chemostat, the virus concentration in the virus stock, and the flow rates, as described in Fig. 1. This has several advantages:
1) Elimination of the risk of viral antigenic variation as each cell that enters the tube is infected with a virus stock of defined passage number , and the number of additional virus passages inside the tube is limited
2) Steady-state operation allows harvesting of virus particles with defined quality attributes over extended time periods.
3) Suitable for production of viruses which show significant accumulation of defective interfering particles (DIPs) and display high mutation rates, i.e. influenza A virus [3,4,5]
Aim of the project
Design and optimization of a PFBR system for production of influenza A virus (Fig. 2)
Characterization of the system by monitoring the total number of virus particles, the concentration of infectious virions, cells and metabolites using flow cytometry, quantitative PCR, and virus assays [3]
Establishment of a mathematical model to describe process behavior
Process design and evaluation for other viruses and cells (optionsfor licensing and/or collaborations [1])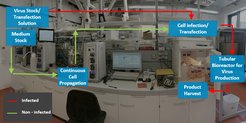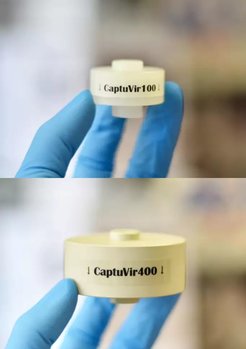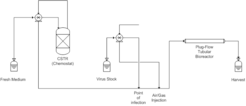 References
Plug flow bioreactor, method containing the same and method for virus production.
PCT/EP2016/060150 (pending).
Chemical reaction engineering.
1st ed. John Wiley & Sons 1962, p. 99-124,139
Elements of Chemical Reaction Engineering.
3rd ed. Prentice-Hall International, Inc. 1999, pp. 10-25, 34-63, 809-869.
8 (9), p. e72288 (2013)
Continuous Influenza Virus Production in Cell Culture Shows a Periodic Accumulation of Defective Interfering Particles. PLoS One
A tubular segmented-flow bioreactor for the infection of insect cells with recombinant baculovirus.
Cytotechnology 24 (2), pp. 143-152 (1997)
A continuous process for the production of baculovirus using insect-cell cultures.
Biotechnol Lett 10 (12), pp. 849-854 (1988)