Symposium "Dynamics of Complex Technical Systems: Current Status and Future Perspectives" 25 Years MPI Magdeburg
Impulses for Change: For a Sustainable Future - 25 Years Max Planck Institute Magdeburg
Date:

Jun 29, 2023

Time:

01:30 PM - 06:00 PM (Local Time Germany)

Location:

Festung Mark Magdeburg

Room:

Hohepfortewall 1, 39104 Magdeburg

Contact:

25jahrempi@mpi-magdeburg.mpg.de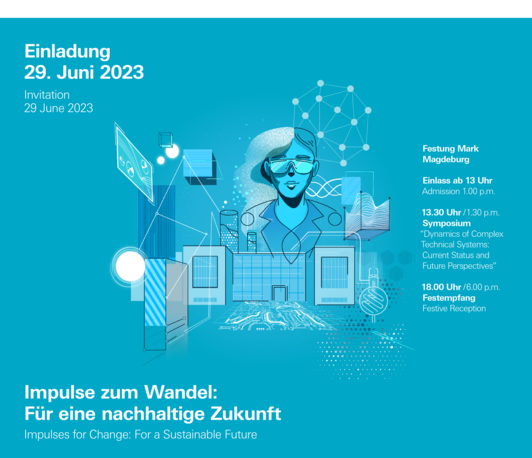 In June 1996, the Senate of the Max Planck Society for the Advancement of Science decided to found the Max Planck Institute for Dynamics of Complex Technical Systems - the first engineering institute of the Max Planck Society. In June 1998, the work of the institute began in Magdeburg in rented rooms and laboratories of the ZENIT building in Magdeburg under the leadership of the founding director Prof. Dr.-Ing. Ernst-Dieter Gilles. 25 years after the start of work, the small circle of motivated employees of the first hour has grown into a dedicated staff of 210 employees, who devote themselves to basic engineering research in the MPI research building at Askanischer Platz.
With our cross-application systems-theoretical approach, our expertise in the use of mathematical methods, and well-designed laboratory and computer experiments, we make fundamental contributions to research topics that are of central importance to our industrial society, such as increasing the raw material efficiency of chemical production processes, optimizing the biotechnological production of vaccines and therapeutics, and systematically substituting fossil fuels with renewable energy sources.
We look forward to not only reviewing the scientific successes of the past together with you on June 29, 2023 in the Festung Mark in Magdeburg, but also to discussing new impulses for the future development of our Max Planck Institute with you.
On behalf of all our employees
Prof. Dr.-Ing. Kai Sundmacher
Managing Director