POSTPONED: MPI Colloquia Series: Prof. Dr. rer. nat. Michael H. Eikerling, Institute of Energy and Climate Research, Forschungszentrum Jülich
MPI Colloquia Series: Prof. Dr. rer. nat. Michael H. Eikerling, Institute of Energy and Climate Research, Forschungszentrum Jülich
Date:

Mar 19, 2020

Time:

16:00 - 17:00

Speaker:

Prof. Dr. rer. nat. Michael H. Eikerling

Direktor, Institut für Energie und Klimaforschung , (Institute of Energy and Climate Research) IEK-13: Modellierung und Simulation von Werkstoffen in der Energietechnik (Modeling and Simulation of Energy Materials) Forschungszentrum Jülich GmbH

Location:

Max Planck Institute Magdeburg

Room:

Big Seminar Room "Prigogine"

Contact:

sek-pcp@mpi-magdeburg.mpg.de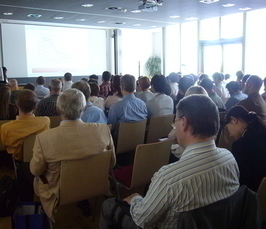 This colloquium has been postponed. We will announce a new date as soon as possible.

The Max Planck Institute Magdeburg invites you to its series of colloquia. Top-class scientists, invited by the Max Planck Institute Magdeburg, give a survey of their research work. Everybody who is interested, is invited to attend.
Abstract
The growing demand for highly efficient and environmentally benign energy technologies drives research on electrochemical materials. In this realm, theory, modeling, and simulation are contributing powerful methods and tools to study how complex multifunctional materials come to life during self-organization, how they live and work, and how they age and fail. The presentation will scrutinize a hierarchy of interrelated scientific challenges that determine cost, performance and lifetime of polymer electrolyte fuel cells. It will provide an account of recent advances in the development of first principles methods in electrocatalysis, the modeling and simulation of reaction conditions at mesoscopic interfacial regions between catalyst/support surface and ionomer skin layer, and the comprehensive modeling of complex water phenomena that couple processes across cell components and scales. The presented tools and analyses bolster efforts in materials selection, structural design and testing, as well as overall performance evaluation and improvement.