Magdeburg Lectures on Optimization and Control: Improving human-centered robots by model-based optimization
Magdeburg Lectures on Optimization and Control: Improving human-centered robots by model-based optimization
Date:

Nov 26, 2019

Time:

17:00 - 18:30

Speaker:

Prof. Dr. Katja Mombaur

Chair Optimization, Robotics and Biomechanics (ORB), Institute of Computer Engineering (ZITI), University of Heidelberg

Location:

Otto von Guericke University, building 02, room 210

Host:

Jointly organized by: Faculty of Electrical Engineering and Information Technology, Faculty of Mathematics, Max Planck Institute Magdeburg and Center for Dynamic Systems: Biosystems Engineering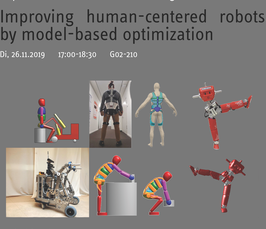 In the frame of the Magdeburg Lectures on Optimization and Control Series every semester 3-4 experts from the field of control and optimization are invited.

The lecture series is jointly organized by the Department of Electrical Engineering (Prof. Rolf Findeisen), the Department of Mathematics (Prof. Volker Kaibel, Prof. Sebastian Sager), the Max-Planck-Institute Magdeburg (Prof. Peter Benner) and the Center for Dynamic Systems.
Abstract

Katja Mombaur is a full professor at the Institute of Computer Engineering of Heidelberg University and head of the Optimization, Robotics & Biomechanics Chair, as well as coordinator of the Heidelberg Center for Motion Research. She holds a diploma degree in Aerospace Engineering from the University of Stuttgart and a Ph.D. degree in Mathematics from Heidelberg University and has worked as a researcher at Seoul National University and in LAAS-CNRS in Toulouse. In 2020, she will join the University of Waterloo as Canada Excellence Chair for Human-Centered Robotics & Machine Intelligence. Her research focuses on understanding human movement by a combined approach of model-based optimization and experiments and using this knowledge to improve motions of humanoid robots and the interactions of humans with exoskeletons, prostheses and external physical devices.