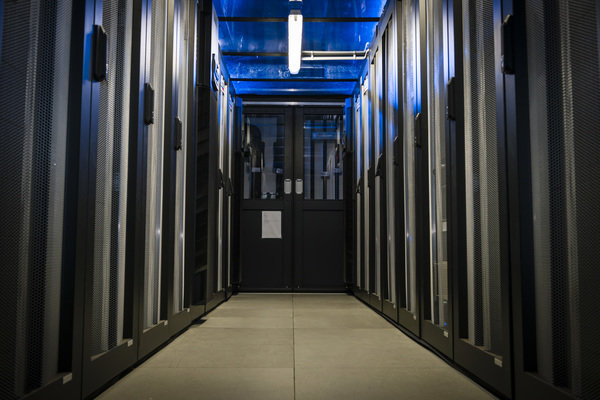 Linux Cluster Mechthild
The Linux-Cluster Mechthild is the central computational resource at the MPI Magdeburg. Researchers of all groups can use it for simulations, large and especially distributed computations. The CSC group uses Mechthild especially for the development of scientific software and for computations related to our further research activities. The system is the successor of the old Linux Cluster otto.

Hardware
Mechthild is a heterogeneous cluster with four different kinds of compute nodes.
Standard Node
GPU Node Type 1/2
GPU Node Type 3/4
CPU-IO-Node
CPU:
2x Intel Xeon Skylake Silver 4110
2x Intel Xeon Skylake Silver 4110 / 2x Intel Xeon Skylake Gold 6130
2x AMD Epyc 7452
2x Intel Xeon Skylake Silver 4210R
Cores per CPU:
8
8 / 16
32
10
Clockrate:
2.1 GHz
2.1 GHz
2.35 GHz
2.40 GHz
RAM:
192 GB DDR4 ECC/384 GB DDR4 ECC
192 GB DDR4 ECC
512 GB DDR4 ECC
768 GB DDR4 ECC
Network:
Intel OmniPATH 25 GBits/s
Theoretical peak performance per node (CPU):
537 GFlop/s
537 GFlop/s
2400 GFlop/s
768 GFlop/s
Accelerator:
-
1x NVidia Tesla P100
4x Nvidia Tesla A100 (1x) / 2x Nvidia Tesla A100 (4x)
-
Harddisk:
-
-
-
2 TB NVMe SSD
Number of nodes:
112/10
5/5
5
2
Linpack peak performance of all nodes:
60 TFlops/s
Other hardware components are:
1 login node using two Intel Xeon Silver 4110
1 service node using two Intel Xeon Silver 4110
128 TB BeeGFS network storage
OmniPath network wirth 1:2 blocking
Software
The users of Mechthild have various software packages for mathematical and software-engineering purposes installed. Some highlights are:
GNU Compiler Collection
Intel C/C++/Fortran Compiler
MATLAB®
Gromacs
SLURM
several mathematical libraries (BLAS, Lapack, Deal.II, Fenics)
The installed software is configured and selected using the Modules-system. This gives an easy means to setup a designated working environment, or switch, e.g., to a different compiler suite. Additional software is installed upon request to optimally fulfill the needs of all researchers.
Investment
The total investment for the system was about 1 100 000€. The larger part of 750 000€ was funded by the Max Planck society, the remainder was taken from the individual department budgets.
Users
In order to use Mechthild researchers have to sign a separate policy. More details can be found in the internal wiki of our institute.