Dr.-Ing. Teng Zhou appointed as an Assistant Professor at the Otto von Guericke University Magdeburg
Dr.-Ing. Teng Zhou, team leader in the Process Systems Engineering research group, has been appointed as a Junior Professor in the field of Computer-Aided Material and Process Design in the Faculty of Process and Systems Engineering at the Otto von Guericke University Magdeburg.
The performance of an industrial process depends heavily on the chosen materials. The optimal selection of materials is thus significant for achieving a cost-effective and environmental-friendly technical process. The Computer-Aided Material and Process Design (CAMPD) research combines fundamental physical understanding with multiscale modeling to discover, design, and evaluate better functional materials, such as catalytic materials, energy storage materials, and porous separation materials, for engineering applications. The research will focus not only on the materials themselves, but also on the innovative processes where these materials are used. The development of advanced modeling and optimization methods for integrated material and process design will also be one of the major interests.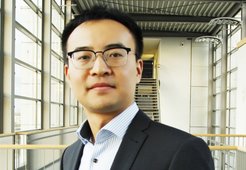 In 2012, Teng Zhou received his master degree in Chemical Engineering from East China University of Science and Technology, which the Max Planck Institute Magdeburg is closely cooperating with. After that, he worked in the group of Process Systems Engineering (PSE) headed by Prof. Kai Sundmacher at the Max Planck Institute. In 2016, he obtained his Ph.D. degree from the Otto von Guericke University Magdeburg. Afterwards, he continued to work as a postdoctoral scientist for one year and at the beginning of 2018, he was appointed as a team leader in the PSE group at the Max Planck Institute Magdeburg.
Teng Zhou has many years of research experience in several different chemical engineering and PSE areas including computer-aided molecular design of solvents, ionic liquid intensified separation engineering, multiscale process modeling and optimization as well as machine learning and surrogate modeling. Until now, he has published 30 articles in highly recognized international journals. He has also earned several important honors and awards including the Chinese-German Chemical Association (CGCA) Young Researchers Award, the Chinese Government Award for Outstanding Students Abroad, and the CAST Directors' Award granted by the American Institute of Chemical Engineers (AIChE).