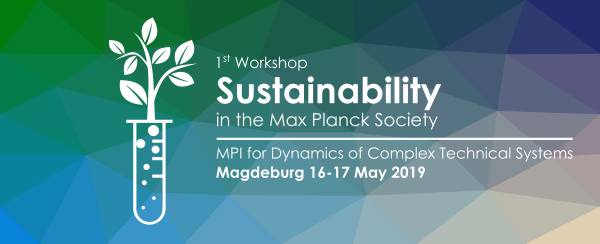 Join us!
Please register until 30 April 2019.
The workshop is fully booked, however you can register for the waiting list. We will notify you about any free spots.
Participation
Invitation to the workshop is for colleagues from the Max Planck Society - i.e. employees of the Max Planck Institutes, headquarter in Munich and central facilities - as well as guest speakers. Participants register please using the registration form below.
Depending on the number of registered participants we might open the presentations on Thursday, 16 May 2019 between 14:45 and 18:00 also for the public.
Posters
During our coffee breaks we will have small poster sessions. Groups or individuals may bring posters presenting either their sustainability group, activities, specific projects or ideas.
Catering
You will have to pay yourselves for lunch, but we will provide for coffee, tea, drinks, cakes and a dinner which is free for participants and vegan.
Accommodation
Please book your accommodation yourself. On the accommodation page you will find options from luxury to couch surfing.