"Innovation Prize 2021 of the German BioRegions" awarded to ContiVir
Innovative Research on Manufacturing of Viral Vaccines and Gene Therapies
ContiVir, a planned spin-off from the Max Planck Institute for Dynamics of Complex Technical Systems Magdeburg, has been awarded the 2021 "Innovation Prize of the German BioRegions" with regard to their research on and development of a purification tool to tackle vaccine bottlenecks. This national award honors outstanding ideas and patents with high economic potential in the field of modern biotechnology.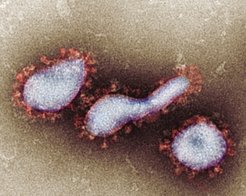 There are serious manufacturing bottlenecks worldwide for life-saving vaccines and gene therapies. Experts agree that incremental changes in productivity will not be enough to cope with the demand. These bottlenecks exacerbated during the ongoing COVID-19 pandemic. Moreover, vaccine manufacturing capacity and vaccination accessibility are increasingly unequal: less than 4% of people in low-income countries have received at least one coronavirus vaccine dose.
ContiVir's membrane-based steric exclusion (SXC) chromatography is a highly efficient and fast purification method for virus particles with the potential of easing manufacturing bottlenecks. Single-use devices are employed to capture and concentrate the virus particles from a production process utilizing a universal recipe that shortens process development and deployment.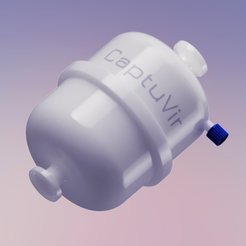 SXC has been used to purify a wide range of viruses, including influenza virus, adeno-associated virus (AAV), and SARS-CoV-2, the etiological agent of COVID-19, which has so far caused 5 million deaths globally. SXC-purified SARS-CoV-2 particles have been successfully used in pre-clinical testing.
Dr.-Ing. Pavel Marichal-Gallardo developed the awarded virus purification technology during his doctoral research at the Bioprocess Engineering group (head: Prof. Dr.-Ing. Udo Reichl. He comments on the award: "We are extremely honored by this award and feel flattered that the potential economical and societal impact of this technology is acknowledged. We are working very hard to deploy our purification devices for clinical use so that more vaccines and gene therapies reach the patients that need them."
Dr. Julián López, ContiVir's Business Development lead, adds: "This distinction is undoubtedly a great motivator for our team, and we are very grateful to the Council of Bioregions for such recognition of our efforts, particularly with the current challenges brought by the pandemic. Furthermore, given that our main goal is the democratization of virus manufacturing technologies, this award reassures both ourselves and our partners that our technology development efforts are sufficiently unique towards achieving this purpose."
ContiVir is a 1.6m € EXIST Forschungstransfer project (jointly funded by the European Union and the German federal government) with the aim of enabling bedside manufacturing of viral vaccines and gene therapies by simplifying, miniaturizing, and de-centralizing manufacturing. ContiVir's laboratories are located at the Chair for Bioprocess Engineering at the Otto von Guericke University Magdeburg, where the team also works on a continuous tubular bioreactor developed by Dr.-Ing. Felipa Tapia.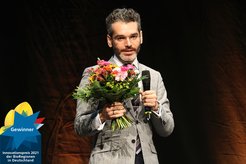 The ContiVir team was endowed with one of three equivalent prizes. The other two prizes went to teams from Berlin and Munich. The award ceremony of the "Innovation Prize of the German BioRegions" took place on 20 September 2021 in Stuttgart at the opening of the German Biotechnology Days, an annual network event of the biotechnology industry where companies as well as partners from politics, research, and government are invited. The event is organized by The Council of BioRegions, an alliance of regional initiatives for the advancement of economic application of modern biotechnology in Germany.