Dr. Léa Chuzel has been awarded the Otto Hahn Medal
Traditional award of the Max Planck Society given to former scientist of the Max Planck Institute Magdeburg
Biotechnologist Dr. Léa Chuzel, alumna of the Bioprocess Engineering Research Group at the Max Planck Institute for Dynamics of Complex Technical Systems Magdeburg, was awarded the Otto Hahn Medal of the Max Planck Society on June 21, 2023. With this award, the Max Planck Society honors her outstanding achievements as a doctoral student at the Magdeburg MPI. The honor was given to her during the 74th Annual Meeting of the Max Planck Society in Göttingen.
A research team led by Dr. Erdmann Rapp in the Department of Bioprocess Engineering (Head: Prof. Dr.-Ing. Udo Reichl) is working on the development of methods for the analysis and modification of complex sugar structures as part of research work in glycobiology. This topic has established itself in recent decades as a specialized branch of science focusing on the structure, biosynthesis, analysis and biology of the so-called glycans.
The methods are mainly used in development of pharmaceuticals, in medicine as well as in biotechnology and the food industry, for example, to avoid incompatibilities already during the development of new pharmaceuticals or to optimize their efficacy and benefits.
In her studies, Lea Chuzel established a very comprehensive workflow that allows for the discovery of new enzymes which can act upon glycans. Screening metagenome libraries from Escherichia coli, which comprised a total of almost 100,000 clones from a variety of ecosystems, identified a novel enzyme called an exosialidase. This catalyzes the cleavage of terminal sialic acids, which are bound to complex carbohydrate structures and can play an important role, for example, in the immune response or in cancer.
The work of Léa Chuzel "demonstrates the benefit of using functional metagenomics to identify precise enzyme specificities to address problems in glycobiology and glycoanalytics. The method of discovery can yield novel protein families that act on glycans, unusual enzymatic specificities, and needed glycoanalytical tools.", the supervisors at MPI Magdeburg, Prof. Dr.-Ing. Udo Reichl / Dr. Erdmann Rapp, evaluate the results of this doctoral thesis.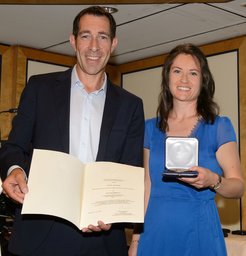 Léa Chuzel wrote her Ph.D. thesis on "Application of functional metagenomics to glycan analysis" in cooperation with the biotechnology company New England Biolabs, USA, (supervisor: Dr. Christopher H. Taron) and successfully defended it in November 2021. For the thesis, Léa Chuzel was a Ph.D. student at the Max Planck Institute for Dynamics of Complex Technical Systems in Magdeburg, Germany, from November 2019 to November 2021; from October 2017 to October 2019, she conducted research at New England Biolabs in Ipswich, Massachusetts, USA. She earned her Master's degree in "Drug Design and Production" at the Université de Strasbourg, France (2015-2016); her Engineer's degree at the Ecole Supérieure de Biotechnologie de Strasbourg, France (2013-2016). Her studies were preceded by a medical-laboratory training at the Institute of Technology in Dijon, France (2011-2013). Currently, Léa Chuzel is a Group Leader, Functional Metagenomics Screening Group at New England Biolabs, Boston Area, USA, where she is pursuing her research topic.
About the Otto Hahn Medal of the Max Planck Society
At its 74th Annual Meeting, the Max Planck Society awarded a special honor to 29 young scientists. They received the Otto Hahn Medal for outstanding scientific achievements made in connection with their doctoral theses. The ceremonial presentation of the medals, which are endowed with 7,500 euros, took place during the Section meetings at the annual meeting in Göttingen. The award is intended to motivate particularly talented early career researchers to pursue a career in higher education or research.
About the Max Planck Institute for Dynamics of Complex Technical Systems Magdeburg
More than 200 employees from 29 nations conduct research at the Max Planck Society's first engineering institute. Systems science-oriented basic research has been the key to the success of Magdeburg's Max Planck Institute for 25 years now. Theoretical and experimental methods are closely combined in order to develop the foundations for future process technologies with which products and energy sources can be manufactured from renewable resources in an environmentally friendly and cost-effective way.