Festung Mark Magdeburg – Venue of the BIWIC 2016 Conference Dinner
This impressive building was part of the former city fortification, now reconstructed for parties and conventions.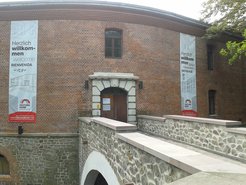 The fortress Mark (Festung Mark) is one of the last witnesses of the once largest Prussian fortress Magdeburg. Where in the 19th century soldiers were at home, 2001 art and culture moved in.
In the last phase of the expansion of the fortress Magdeburg the present building 1864/65 originated as defense barracks on the northern front of the inner defense ring of the city, just outside the medieval city walls. Previously stood here Tenaille Mark, which no longer met the new requirements. The new building should accommodate 600 soldiers and at the same time fulfill their defensive function. It remained in military use until the end of the First World War.
In the initial phase of the Weimar Republic the barracks Mark were converted to the Magdeburg labour exchange. In the mid-1920s several social institutions have been established in the grounds of the barracks Mark. In the late 20s the municipal health office moved into the barracks. In the 1930s the object became the residence for about 600 Italian workers for the Krupp-Gruson company. The barracks were partially hit by Anglo-American bombs in January 1945. The destroyed east wing was partly removed after the war.
In 1947 craft producers settled in the western part of the building, later followed by a brush factory and basket makers. In 1987 arose the idea of turning the barracks Mark in a cultural center for students. Due to the political events of 1989/90, these plans were dropped and the craft producers left the barracks.
In the 1990s many attempts failed to convert the barracks Mark to sell them to investors. In September 2001 the city council repealed the decision to sell the property. At the same time the Kulturszene eV Magdeburg successfully presented a plan for converting the former fortress into a cultural and social place. A first cleanup started at the end of that year and was continued in the following years.
The use of the vaults and archways are now possible without restrictions. A diverse range of cultural and social events take regularly place this location - from the modern concert evening to the historic medieval spectacle.