2nd Symposium on Insights into Gas Diffusion Electrodes: From Fundamentals to Industrial Applications
2nd Symposium on Insights into Gas Diffusion Electrodes: From Fundamentals to Industrial Applications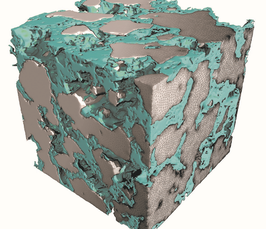 The 2nd Symposium on "Insights into Gas Diusion Electrodes: From Fundamentals to Industrial Applications" is an initiative of the Research Unit 2397 approved by German Research Foundation (DFG) in July 2016.
The main research focus of the project "Multiscale Analysis of Complex Three-Phase Systems: Oxygen and Carbon Dioxide Reduction" is devoted to the interaction of reaction and transport processes during oxygen and carbon dioxide reduction within silver-based gas diffusion electrodes (GDEs).
GDEs have broad applications in different electrochemical devices such as (bio)-fuel cells, (bio)-electrolyzers, and
batteries for energy as well as inorganic and organic synthesis applications. Although very different chemistries and
materials are involved, all of these examples share some similarities related to so-called "three phase boundaries" as
well as pronounced mass transfer resistances related to slow diffusivity and/or low solubility of gases.
Main Topics
Advanced methods for GDE preparation (devoted to control of local arrangement of GDE materials and porosity)
and simulation driven methods for GDE structure optimization.
Study of reaction kinetics and reaction mechanisms involving gaseous products or reactants.

Advanced characterization methods for GDEs (dynamic, in-situ, and operando studies).
Multiscale modeling of GDE operation including reaction and transport resistances.
Plenary Speakers
Dr. Adam Weber, Lawrence Berkeley National Laboratory, USA
Prof. Doris Segets, University Duisburg Essen, Germany
Prof. Eileen Yu, Loughborough University, United Kingdom
Important Dates (Deadlines)
Abstract submission opening: March 1, 2022
Abstract submission deadline: June 1, 2022
Notification of acceptance for oral and poster
contributions: July 1, 2022
Early bird registration: July 15, 2022
Deadline for oral presentations: August 15, 2022
Read more about the scientific scope, abstract submission and important dates on our conference website.