MPI Kolloquiumsreihe: Prof. Marc Timme, Braess' Paradox, Anomalous Fluctuations and Nonlocal Rerouting in Power Grids - Collective Nonlinear Dynamics of Networks
MPI Kolloquiumsreihe: Prof. Marc Timme, Braess' Paradox, Anomalous Fluctuations and Nonlocal Rerouting in Power Grids - Collective Nonlinear Dynamics of Networks
Datum:

08.03.2018

Uhrzeit:

16:00 - 17:00

Vortragende(r):

Prof. Marc Timme

Professor at TU Dresden, Chair for Network Dynamics, Center for Advancing Electronics Dresden (cfaed) & Institute of Theoretical Physics)

Ort:

Max-Planck-Institut Magdeburg

Raum:

Großer Seminarraum "Prigogine"

Kontakt:

sek-pcp@mpi-magdeburg.mpg.de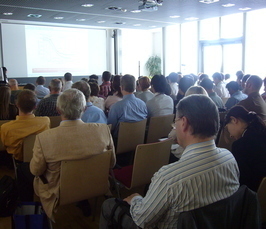 Das Max-Planck-Institut Magdeburg lädt Sie herzlich zu seiner öffentlichen Kolloquiumsreihe ein.
Hochrangige Wissenschaftler aus verschiedenen Fachgebieten, eingeladen vom Max-Planck-Institut Magdeburg, präsentieren ihre Forschungsarbeit.
Abstract

The collective dynamics of networks fundamentally underlies the function of a wide range of infrastructure systems around us, ranging from communication and traffic networks to power grids and other supply networks. Yet collective dynamical network phenomena are far from fully understood today. In this talk, I will offer an introduction to the challenges of the rapidly developing field of Network Dynamics. I will highlight three collective dynamical phenomena that emerge across networked systems and that have particular relevance to power grids: (i) Braess' paradox in oscillatory systems, explaining how adding links may remove previously existing operating states through 'geometric frustration' [1], (ii) nonlocal flow rerouting [2,3], the finding that an infrastructure might be systemically relevant although local measures indicate the opposite; and iii) anomalous fluctuations [4] and their spreading [5], asking how local changes dynamically impact networks in a distributed yet often characteristic way. We discuss consequences of our findings for the design and operation of future-compliant power grids. This is work with Debsankha Manik, Benjamin Schaefer, Dirk Witthaut, Xiaozhu Zhang and others.

References:

[1] D. Witthaut & M. Timme, New J. Phys. 14:083036 (2012).
[2] C. Kirst et al., Nature Communications 7, 11061 (2016)
[3] D. Witthaut et al., Phys. Rev. Lett. 116, 138701 (2016) .
[4] B. Schaefer et al., Nature Energy 3:116 (2018).
[5] X. Zhang et al., Localization and Nonlocal Resonances in Fluctuation Driven Oscillator Networks and Power Grids, under revision (2018).