MPI Kolloquiumsreihe: Prof. Dr. Paul Wilmes, Systems Ecology of Microbiomes: Identifying Key Functions
MPI Kolloquiumsreihe: Prof. Dr. Paul Wilmes, Systems Ecology of Microbiomes: Identifying Key Functions
Datum:

21.03.2019

Uhrzeit:

16:00 - 17:00

Vortragende(r):

Paul Wilmes

Associate Professor Head of the Eco-Systems Biology Research Group Luxembourg Centre for Systems Biomedicine

Ort:

Max-Planck-Institut Magdeburg

Raum:

Großer Seminarraum "Prigogine"

Kontakt:

sek-bpe@mpi-magdeburg.mpg.de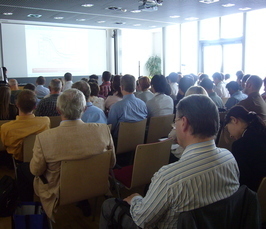 Das Max-Planck-Institut Magdeburg lädt Sie herzlich zu seiner öffentlichen Kolloquiumsreihe ein.
Hochrangige Wissenschaftler aus verschiedenen Fachgebieten, eingeladen vom Max-Planck-Institut Magdeburg, präsentieren ihre Forschungsarbeit.
Abstract

Microbiomes represent highly dynamic and heterogeneous systems, which exhibit tremendous complexity at all levels. High-throughput molecular measurements are allowing unprecedented insights into microbiome composition, physiology, ecology and evolution in situ. Our group has pioneered a comprehensive toolbox comprising wet- and dry-lab methodologies to enable systematic measurements of microbiomes over space and time, the integration and analysis of the resulting multi-omic data, and experimental models for rapidly testing hypotheses in vitro. The application of these methods has culminated in essential new insights regarding niche ecology and resulting lifestyle strategies of specific microbial populations in situ as well as the discovery of keystone functional genes. In the context of the human gut microbiome, it has highlighted the disruption of ecosystem services in the context of human disease (type 1 diabetes). To study the ramifications of such perturbations, a microfluidics-based model of the gastrointestinal human-microbe interface has been developed called HuMiX. HuMiX allows the probing of the molecular interactions between human and microbial cell contingents and has highlighted the importance of microbial metabolism in governing human cell physiology in the gut. The developed toolbox is also particularly pertinent for the exploration of the vast expanse of unknown features in microbiomes, ranging from uncharacterised organisms to proteins of unknown function and small molecules. Thereby, Microbial Systems Ecology offers great potential for the discovery of new biological functions in the future.