Recently Published Scientific Articles
Here, we present selected recent publications of the MPI Magdeburg.
2017
Zoom Image
© Royal Society of Chemistry
© Royal Society of Chemistry
CrystEngComm Highlight Article
Since knowledge on the occurrence of non-equimolar discrete compounds in binary systems containing chiral molecules is very limited, this study reviews and systematizes the current state of investigating such systems and summarizes the results on two example systems studied in detail by the authors.
In particular, the identification and verification of the non-equimolar discrete compounds compared to other discrete solid phases occurring in the two systems are discussed by presenting the results of related SCXRD, PXRD, TRPXRD, DSC, IR, and HSM studies. The (S)-malic acid–(R)-malic acid system has been found to contain non-equimolar 1
:
3 and 3
:
1 stable (S3R and SR3) and metastable (3S1R and 1S3R) discrete compounds, along with the equimolar compounds RSI and RSII (known monoclinic modifications) and the recently discovered RSIII modification.
Polymorphic transformations of the discrete phases are debated, and the crystal structure of the stable compound S3R is identified (S. G. P1). The L-valine–L-isoleucine system has been stated to contain a non-equimolar 2
:
1 discrete compound, V2I, that could independently be proven by the ternary solubility diagram in water and its crystal structure solved (S. G. C2). The results obtained are discussed in conjunction with the findings reported in the literature. In order to systematize the variety of terms used for the description of discrete phases in binary chiral systems of organic substances, a systematization of equimolar and non-equimolar compounds based on chemical and crystallographic characteristics is proposed.
Original publication:
---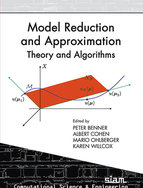 Zoom Image
Many physical, chemical, biomedical, and technical processes can be described by partial differential equations or dynamical systems. In spite of increasing computational capacities, many problems are of such high complexity that they are solvable only with severe simplifications, and the design of efficient numerical schemes remains a central research challenge. This book presents a tutorial introduction to recent developments in mathematical methods for model reduction and approximation of complex systems.
Model Reduction and Approximation: Theory and Algorithms
contains three parts that cover (I) sampling-based methods, such as the reduced basis method and proper orthogonal decomposition, (II) approximation of high-dimensional problems by low-rank tensor techniques, and (III) system-theoretic methods, such as balanced truncation, interpolatory methods, and the Loewner framework;
is tutorial in nature, giving an accessible introduction to state-of-the-art model reduction and approximation methods; and
covers a wide range of methods drawn from typically distinct communities (sampling based, tensor based, system-theoretic).
Original publication:
Peter Benner, Albert Cohen, Mario Ohlberger, and Karen Willcox (Eds.)
Model Reduction and Approximation: Theory and Algorithms
SIAM Publications, Philadelphia, PA, 2017.
ISBN: 978-1-611974-81-2
---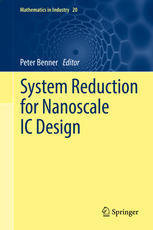 Zoom Image
© Springer International Publishing AG
© Springer International Publishing AG
This book describes the computational challenges posed by the progression toward nanoscale electronic devices and increasingly short design cycles in the microelectronics industry, and proposes methods of model reduction which facilitate circuit and device simulation for specific tasks in the design cycle.
The goal is to develop and compare methods for system reduction in the design of high dimensional nanoelectronic ICs, and to test these methods in the practice of semiconductor development. Six chapters describe the challenges for numerical simulation of nanoelectronic circuits and suggest model reduction methods for constituting equations. These include linear and nonlinear differential equations tailored to circuit equations and drift diffusion equations for semiconductor devices. The performance of these methods is illustrated with numerical experiments using real-world data. Readers will benefit from an up-to-date overview of the latest model reduction methods in computational nanoelectronics.
Original publication:
Peter Benner
System Reduction for Nanoscale IC Design
Springer International Publishing AG. 2017.
DOI: 10.1007/978-3-319-07236-4
---
2016

Zoom Image
© AIChE American Institute of Chemical Engineers
© AIChE American Institute of Chemical Engineers
Utilizing volatile renewable energy sources (e.g., solar, wind) for chemical production systems requires a deeper understanding of their dynamic operation modes. Taking the example of a methanation reactor in the context of power-to-gas applications, a dynamic optimization approach is used to identify control trajectories for a time optimal reactor start-up avoiding distinct hot spot formation. For the optimization, we develop a dynamic, two-dimensional model of a fixed-bed tube reactor for carbon dioxide methanation which is based on the reaction scheme of the underlying exothermic Sabatier reaction mechanism. While controlling dynamic hot spot formation inside the catalyst bed, we prove the applicability of our methodology and investigate the feasibility of dynamic carbon dioxide methanation. © 2016 American Institute of Chemical Engineers AIChE J, 2016
Original publication:
Jens Bremer, Karsten H.G. Rätze and Kai Sundmacher
AIChE Journal /

ISCRE 24 - Foundations and Vistas of Chemical Reaction Engineering: Process Systems Engineering, 
23 September 2016.

---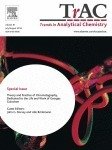 Zoom Image
Essential goal of modeling chromatographic processes is to describe the dynamics of concentration fronts traveling through chromatographic columns. Most of the models developed originate from differential mass balances for the fluid and solid phases. Model reduction based on evaluating just a limited number of moments of the profiles is known to be a powerful tool to simplify the description of band profiles. This review article first describes the well-established method of moments for different standard models. Then the method is extended to evaluate more complex and realistic column models. The cases of applying columns packed with core-shell particles and the quantitative description of radial concentration profiles are analyzed.
Original publication:
Shamsul Quamar, Andreas Seidel-Morgenstern
Extending the potential of moment analysis in chromatography
Trends in Analytical Chemistry, Volume 81, Pages 87–101, July–August 2016.
DOI: 10.1016/j.trac.2016.01.007
---