POSTPONED to MAY 29, 2021: 15th Science Night in Magdeburg
15th Science Night in Magdeburg
Start:

Jun 6, 2020 18:00

End:

Jun 7, 2020 00:30

Location:

Magdeburg

Host:

Max Planck Institute Magdeburg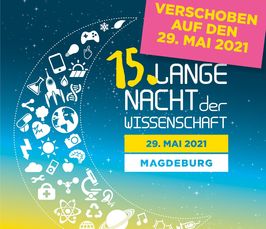 The Science Night in Magdeburg will be postponed to May 29, 2021. All scientific institutions have favoured this decision.
Die Landeshauptstadt Magdeburg, die Otto-von-Guericke-Universität Magdeburg, die Hochschule Magdeburg-Stendal und die Wissenschaftseinrichtungen haben gemeinsam entschieden, die Vorbereitungen zu stoppen und die Lange Nacht der Wissenschaft für dieses Jahr abzusagen.
"Mit einem ganz schweren Herzen müssen wir die Lange Nacht der Wissenschaft in diesem Jahr ausfallen lassen. Das Coronavirus und die damit verbundenen Einschränkungen und Unsicherheiten bremsen uns bei den Vorbereitungen aus und lassen uns momentan keine andere Wahl. Die Gesundheit aller geht in diesen Zeiten vor",
bedauert Magdeburgs Oberbürgermeister Dr. Lutz Trümper die Verschiebung.
"Umso mehr freue ich mich auf das kommende Jahr, wenn wir am 29. Mai 2021 die Türen zu den Hörsälen, Laboren und Werkstätten wieder für zahlreiche Besucher*innen öffnen können."
-----------------------
The Science Night in Magdeburg will take place for the 15th time, when all research institutions in town open their doors to the public. We offer experiments and special guided tours for kids and also guided tours in English. The state-of-the-art of our research highlights in the engineering sciences will be presented by our scientists in talks and in several "experimental corners".