MPI Colloquia Series: Prof. James M. Piret, Technologies Tailored for Cell Therapy Manufacturing
MPI Colloquia Series: Prof. James M. Piret, Technologies Tailored for Cell Therapy Manufacturing
Date:

Nov 11, 2019

Time:

11:00 - 12:00

Speaker:

James M. Piret

The University of British Columbia, Faculty of Applied Science, Department of Chemical and Biological Engineering

Location:

Max Planck Institute Magdeburg

Room:

Big Seminar Room "Prigogine"

Contact:

sek-bpe@mpi-magdeburg.mpg.de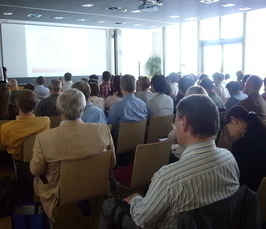 The Max Planck Institute Magdeburg invites you to its series of colloquia. Top-class scientists, invited by the Max Planck Institute Magdeburg, give a survey of their research work. Everybody who is interested, is invited to attend.
Abstract
A major wave of promising cell therapies is progressing through clinical trials, stimulating the need for more economical methods to manufacture safe and effective cell products. We are in a unique window of opportunity for tailored innovative technologies to better address the emerging specialized needs of cell therapy manufacturing. A common unit operation is to wash cells between process stages, such as from cryopreservation to cell culture media. We previously developed an acoustic cell separation device, widely used for CHO cell perfusion cultures. This technology acts as a non-fouling filter using the forces generated in ultrasonic standing wave fields. We have recently enhanced this acoustic technology to perfuse >100 million CHO cell/mL cultures, maintaining >99% cell separation efficiencies. This technology is providing an alternative high performance closed manufacturing system, to perfuse, concentrate and wash cells, with no physical filter barrier or mechanical moving parts.
Also, while many clinical trials have had few adverse events, the great promise of cellular therapies comes with grave risks, such as from potentially oncogenic pluripotent cells present in embryonic stem cell derived populations. There is an urgent need for improved process analytical technologies to non-invasively monitor mammalian cell populations and to increase the reliability of manufactured cell products. We are using Raman spectroscopy to track stem cell differentiation, measuring macromolecular cell changes in the process used to manufacture insulin-producing cells for the treatment of diabetes.