Public Max Planck Evening with Science Slam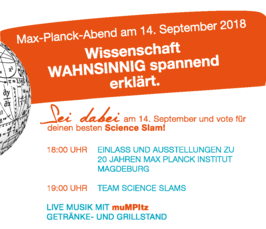 Max Planck Day 2018: Public Max Planck Evening with Science Slam
The nationwide Max Planck science event takes place on September 14, 2018. Throughout Germany all Max Planck Institutes showcase their activities and the Max Planck Institute in Magdeburg opens the doors for you!
We are pleased to invite you to our Slam Presentations and to vote for your favorite!
Our colleagues will present you their activities and passion for science in a fun and entertaining way. Join us and be a part of the jury!
There are excellent reasons to celebrate in 2018: not only will the Max Planck Society turn 70, but it will also be Max Planck's 160th birthday on April 23rd, and last but not least it will be the 100th anniversary of Max Planck's Nobel Prize.
We believe that this "triplet" of anniversaries is a unique opportunity for the Max Planck Society as a whole to reach out to the public and say: "We are Max Planck!" We form a visible, a colorful and exciting family of research sites – and as such, we want to contribute to a free, democratic, modern and forward-thinking society.
By declaring September 14th, 2018 Max Planck Day, we Max Planck Institutes will all together directly address the public and present our community in all its diversity and unified strength. Under this headline, all Max Planck Institutes will dedicate this day to inform the public about who we are, what specific research we do and the importance of science for society.
Furthermore, our Max Planck Institute for Dynamics of Complex Technical Systems commenced research twenty years ago in June 1998 here in Magdeburg.