MPI Kolloquiumsreihe: Prof. Dr. Ulrich Pöschl, Multiphase Chemical Kinetics at the Interface of Earth and Life Sciences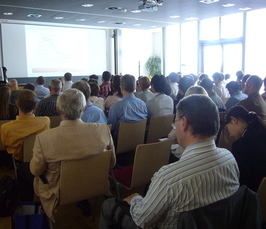 MPI Kolloquiumsreihe: Prof. Dr. Ulrich Pöschl, Multiphase Chemical Kinetics at the Interface of Earth and Life Sciences
Datum:

14.09.2017

Uhrzeit:

16:00 - 17:00

Vortragender:

Prof. Dr. Ulrich Pöschl

Direktor der Abteilung Multiphasenchemie, Max-Planck-Institut für Chemie, Mainz

Ort:

Max-Planck-Institut Magdeburg

Raum:

Großer Seminarraum "Prigogine"

Kontakt:

sek-pcg@mpi-magdeburg.mpg.de
Das Max-Planck-Institut Magdeburg lädt Sie herzlich zu seiner öffentlichen Kolloquiumsreihe ein.
Hochrangige Wissenschaftler aus verschiedenen Fachgebieten, eingeladen vom Max-Planck-Institut Magdeburg, präsentieren ihre Forschungsarbeit.
Multiphase Chemical Kinetics at the Interface of Earth and Life Sciences

Abstract

Multiphase chemistry deals with chemical reactions, transport processes and transformations between solids, liquids and gases. These processes are important for Earth sciences and climate as well as for life sciences and health. Focal points include aerosol-cloud-climate interactions, the effects of air pollutants on allergies and inflammation, and the development of kinetic models. Recent advances and ongoing research activities will be outlined.
Pöschl, U. and M. Shiraiwa: Multiphase Chemistry at the Atmosphere−Biosphere Interface Influencing Climate and Public Health in the Anthropocene, Chemical Reviews 115, 4440−4475, 2015.
Cheng, Y.F. et al., Reactive nitrogen chemistry in aerosol water as a source of sulfate during haze events in China, Science Advances 2, e1601530, 2016.
Lakey, P. S. J. et al., Chemical exposure-response relationship between air pollutants and reactive oxygen species in the human respiratory tract, Scientific Reports 6: 32916, 2016.
Reinmuth-Selzle et al., Air Pollution and Climate Change Effects on Allergies in the Anthropocene: Abundance, Interaction, and Modification of Allergens and Adjuvants, Environmental Science & Technology 51, 4119-4141, 2017.