Qualitative and Quantitative Analysis of Bio(techno)logical Systems on Glycome and Glycoproteome Level
Glycomics is a rapidly emerging field that can be viewed as a complement to other "omics" approaches including proteomics and genomics. In particular monoclonal antibodies, recombinant proteins and viral antigens produced in mammalian cell culture play an important role in the manufacturing of biopharmaceuticals. Here, glycosylation profiles have to be closely controlled, as glycosylation potentially affects important properties, including bioactivity and antigenicity. Appropriate glycoanalytical tools are needed to support process development and optimization, i.e..the design of experiments (DoE) or studies targeted towards quality by design (QbD). Hence, they help to obtain a consistent quality of the corresponding products for each unit operation in up- and downstream processing along the production process. With the inceasing demand for glycoanalysis in glycobiology, respectively, glycobiotechnology there is a dynamic increase in the demand for sophisticated databases and smart glycoanalytical tools.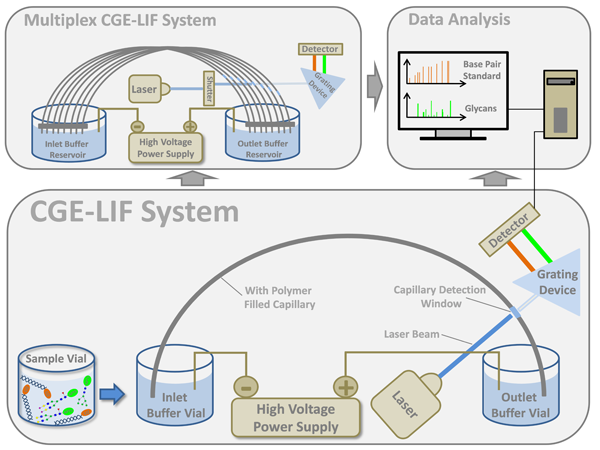 Zoom Image
Single & multiplexed capillary gel electrophoresis (CGE) with laser induced fluorescence (LIF) detection.
Single & multiplexed capillary gel electrophoresis (CGE) with laser induced fluorescence (LIF) detection.
© MPI Magdeburg (BPE)
© MPI Magdeburg (BPE)
In order to enhance and improve the comparatively small existing glycoanalytical toolbox, fully automated high-throughput (HT), high-performance (HP) and high-resolution (HR) analysis methods including automated data evaluation are required. Besides several mass spectrometry (MALDI-Tof/Tof-MS, RP-LC-MS, PGC-LC-MS) and liquid chromatography-based (HILIC-FLR, HPAEC-PAD) analysis techniques, electromigrative separation techniques for the analysis of oligosaccharides are being established at the MPI. Especially, an approach based on multiplexed capillary gel electrophoresis with laser induced fluorescence detection (xCGE-LIF) is used. The application of this technique to glycoanalysis using instruments with up to 96 capillaries in parallel, results in a massive reduction of the effective separation time per sample combined with an impressive sensitivity achieved due to LIF detection and therefore, shows high potential for HT/HP/HR glycoprofiling of glycoconjugates.


Another important aspect is to further improve sample preparation, separation and data analysis. Therfore, the sample preparation method and the workflow are further optimized with respect to feasibility. Second, data analysis is automated, developing novel modular software tools for data-processing and -analysis, interfacing corresponding databases. These modular glycoanalysis systems allow automated, highly sensitive high-throughput glycoanalysis.