Bio/Process Analytics
Key topics of the Max Planck Institute for dynamics of complex technical systems are process design, control and optimization. At the bioprocess engineering group headed by Prof. Reichl these topics are investigated for a deeper understanding with respect to cell culture-based production of biologicals (USP & DSP), the monitoring and control of biogas plants, and the characterization of microbial communities.

To address topics at the molecular level, extensive and advanced bioanalytical tools are indispensable. The bio/process analytics team at the MPI-DCTS, headed by Dr. Erdmann Rapp, is dealing with qualitative and quantitative proteomics and the analysis of post translational modifications (PTM) - in particular glycomics and glycoproteomics.
Overview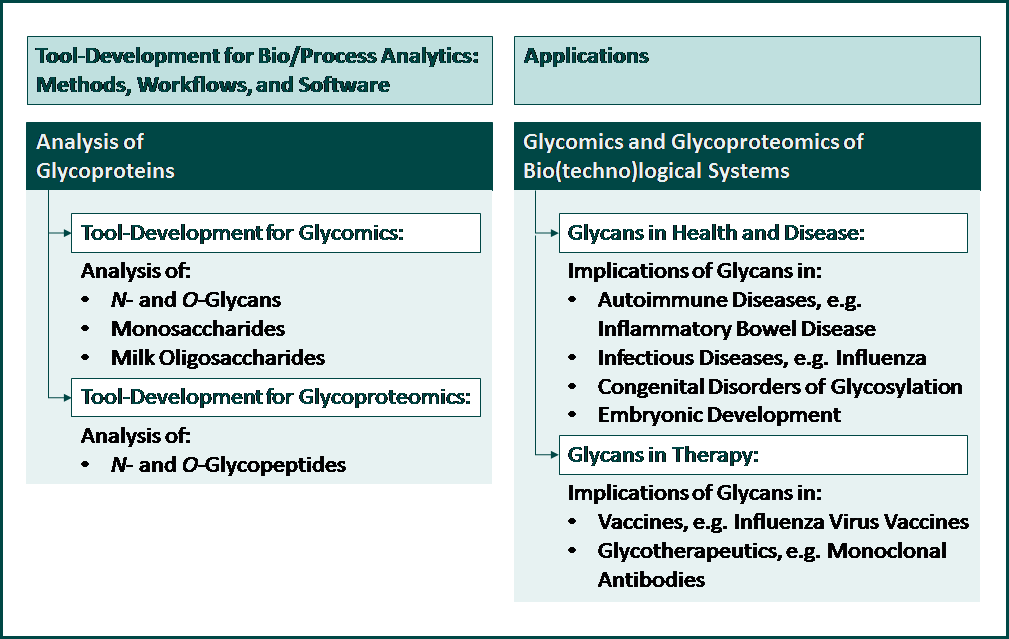 Zoom Image
Overview of main research topics of Bio/Process Analytics.
Overview of main research topics of Bio/Process Analytics.
© MPI Magdeburg (BPE)
© MPI Magdeburg (BPE)
To explore properties of prokaryotes and eukaroytes on the proteome level, several experimental platforms have been established. Qualitative and quantitative proteomics was initially used to answer specific questions concerning mammalian cell growth and virus-related bioprocesses. Increasingly, this technique is also implemented at the MPI to address questions regarding bacterial growth behavior. Therefore, qualitative and quantitative analysis on proteome level is performed using diverse gel-electrophoresis techniques and a set of combinations of miniaturized separation techniques coupled with mass spectrometry. Posttranslational modifications play a crucial role in the function of many proteins. Analysis of glycosylation, which is one of the most frequent protein modifications in mammalian cells, is therefore of particular interest. Hence, an automated high-throughput (HT), high-performance (HP) and high-resolution (HR) glycoanalysis tool, utilizing a multiplexed capillary electrophoresis system is being developed. Together with HT sample preparation as well as the establishment of sophisticated bioinformatic tools (software and databases) for automated data evaluation a wide range of applications from bioprocess engineering and clinical studies to food technology can be covered.